Undergraduates
Our Forensic Psychology program prepares you for leadership roles in the interface between Psychology and Law. The Forensic Psychology program combines disciplinary study in Psychology, specialized study in Forensic Psychology, study in related fields, and applied learning experiences to prepare you for work in a variety of settings and for post-secondary study in fields associated with Forensic Psychology.
The first and second years of study are common to all Forensic Psychology students. In the third and fourth years, you will develop unique knowledge bases and skills through carefully selected elective coursework in Forensic Psychology and related disciplines and applied learning experiences.
Admission 
Admission is competitive. The specific average or standing required for admission varies from year to year. Students are selected by taking into consideration a wide range of criteria including school marks, distribution of subjects taken, and performance in subjects relevant to the academic program. Possession of the minimum requirements does not guarantee acceptance. Preference will be given to applicants with the best qualifications.
For more information, visit Admission Requirements. 
To be eligible for the Bachelor of Arts (Honours) degree in Forensic Psychology, students must meet both the degree requirements and requirements of the major as outlined below for a total of 120 credits. Each year prior to course registration, the order and timing of course offerings will be released by the faculty and communicated to students.
For more information, please visit the Forensic Psychology page on the Academic Calendar. 
Forensic Psychology - Advanced Entry
The Forensic Psychology Advanced Entry program provides college graduates with the opportunity to apply their Police Foundations; Correctional Worker / Community and Justice Services; Child and Youth Worker; Protection, Security and Investigation; or Social Service Worker two-year diploma toward a Bachelor of Arts (Honours) in Forensic Psychology.
For more information on admission requirements, please see Forensic Psychology - Advanced Entry. 
GAS Transfer
Students who have successfully completed a General Arts and Sciences Certificate - Ontario Tech Liberal Arts Transfer option may apply for direct admission into the second year of the Forensic Psychology program. 
For more information, please see Forensic Psychology - GAS Transfer. 
Students registered in a Bachelor of Arts (Honours) program within the Faculty of Social Science and Humanities are permitted to pursue any combination of two majors within the Faculty of Social Science and Humanities concurrently as a double major. Double major program maps have been approved by the Faculty of Social Science and Humanities and are available through the Academic Advising Office. Students undertaking a double major within the Faculty of Social Science and Humanities will, in most cases, be required to complete more than 120 credit hours. Students wishing to declare a double major must consult with the 
Academic Advising
 office.
A minor in Forensic Psychology is available to all students of other majors at our university. Students should be aware of course prerequisites needed to pursue this minor. The Forensic Psychology minor consists of six courses (18 credit hours). A cumulative GPA of at least 2.0 in the minor courses is required to successfully complete the Forensic Psychology minor.
For more information on the Forensic Psychology minor, please visit the 
Academic Calendar
.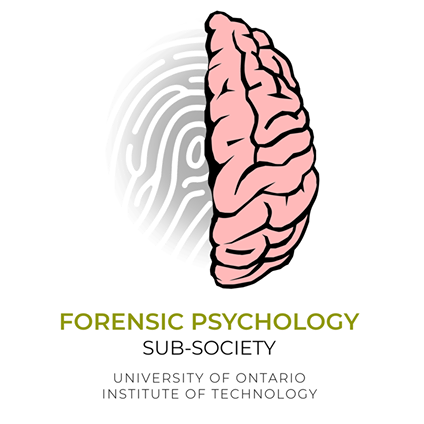 The Forensic Psychology Club provides its 
members with
 an in-depth connection to the field of forensic psychology. It is an amazing way to meet fellow students who also share a similar passion for forensic psychology, and make your university years memorable. If you are interested in learning more about famous psychology experiments, uncovering why criminals do what they do, or discovering how some people are born violent in nature, this club is for you. The club provides a safe and fun environment in which everyone feels comfortable enough to discuss their ideas.
Check out this club on 
Facebook
, 
Twitter
and
Instagram
, or contact 
forensicpsychclub@gmail.com
.
What is it?
A specific scholarly project on a well-defined forensic psychological topic, to be determined in consultation with a thesis supervisor. Honours Thesis includes attending a weekly class, where forensic psychology thesis students will review aspects of the research process and submit written and oral accounts of their research project and its progress. For more information, please visit Forensic Psychology on the Undergraduate Academic Calendar. 
How to apply?
Students apply to register in the Honours Thesis program by submitting to Academic Advising an outline of the proposed forensic psychological topic.
The FSSH Experiential Learning office serves students from all BA programs, arranging placements and internships for students in a wide variety of workplace environments. The office has an established network of contacts for catering to students enrolled in the Criminology and Justice program. For more information, please visit the Experiential Learning Office page. 
Previous Practicum placements have included:
For more information, please visit the Practicum page. 
Valuable hands-on experience with psychology research can be gained through the Directed Laboratory Research (PSYC 3100U) course. This course allows interested and eligible students to engage in individual scholarship and research at an advanced level under faculty supervision. Responsibilities may include: literature searches, assisting with the collection or creation of stimuli, testing research tools and materials, writing ethics proposals, data collection, data entry, and data analysis.
The Forensic Psychology Research Labs are very active, with professors, graduate students, and undergraduate students conducting research that aims to address a wide variety of research questions. Research in these labs focuses on key topics in the field of Forensic Psychology, such as investigative interviewing, lie detection, eyewitness memory, wrongful conviction, offender rehabilitation, juvenile witnesses, psychopathic behaviour, police use of 
body worn
 cameras, and offender profiling.
As a Forensic Psychologist, you will be equipped with the skills and knowledge to succeed in careers including:
Child protection worker
Corrections officer
Crime prevention officer
Drug abuse counselling
Family service worker
Intelligence officer
Law enforcement officer
Mental health technician
Probation officer
Residential youth counsellor
Social service assistant
Statistical assistant