Are robots the future of human-AI relationships?
Leslie Ishimwe, Communication and Digital Media Studies student
October 17, 2022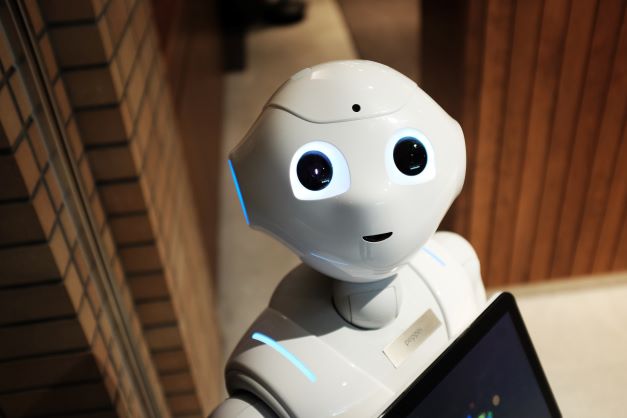 This past September, veteran Canadian broadcaster Michael Hainsworth dedicated an episode of the Where's my Jetpack? web series to the topic of intimate relationships between robots and humans. He interviewed Temple University's doctoral student, Annette Masterson of the Klein College of Media and Communication, to discuss her PhD research on sex bots and sex dolls and the way they reveal broad implications on the future of human intimacy. Temple University is a research partner of the Digital Life Institute  at Ontario Tech University, with several Faculty of Social Science and Humanities faculty collaborations and projects converging on the topic of the social implications of Artificial Intelligence (AI). 
Masterson's research aims to understand the vision of sex robot creator and Realbotix CEO Matt McMullen, whose RealDoll and Realbotix inventions intersect with dominant contemporary themes of companionship with robots and AI sentience. Masterson uses a social construction of technology (SCOT) analysis to further research in the area of sexbots. Social groups that must comprehend a technical artifact's meaning in order to meet society's needs continue to impact technological innovation. According to Masterson, SCOT does not think that society and the mechanisms at play have a one-way impact on technology, affecting both producers and consumers. Instead, she contends that this cycle gives society the ability to control technology advancement, potentially altering how people view particular items and their applications.
She also describes McMullen's emphasis on emotional intimacy as a key element of his work and as the inspiration behind its creation. According to her, the primary objectives of this rhetoric—which combines emotional and physical intimacy—are conversation and companionship. For instance, Harmony, an Artificial Intelligence (AI) Sexdoll, can talk about a variety of subjects, making it seem more real and marketing it as more of a personal product than just a sex toy.
Masterson adds that McMullen tries to stay away from human-indistinguishable hyperrealism. He refers to his creation as a robot rather than "sex robots". He is also certain that human intimacy and interaction cannot be replaced by sex robots, and that AI is not developed enough to demonstrate fully fledged discourse and emotional awareness. He switches between societies where humans and robots are treated equally, where the robots have enough information to be considered sentient creatures, and where they are engaged enough to begin asserting rights.
She draws attention to the fact that McMullen acknowledges that AI is not yet technologically or correctly constructed to answer society's ethical worries about how relationships will change. However, Masterson highlights that as technology advances, people who do not directly use the product may also be influenced, particularly with growth in other industries. This provides McMullen with a platform to communicate his vision and purpose, aiming at social groups of potential users and society at large. In order to keep up with the quick developments, policies and procedures should be put in place right away. This will ensure that privacy and security are given first priority, just like with other emerging platforms and technologies.
Annette Masterson also contributed a special archival web collection called  Expanding intimacy: An institutional exploration of sex robots (2021) to Fabric of Digital Life, a cultural analytics database created by Decimal Lab at Ontario Tech University. 
To learn more about upcoming Digital Life events and activities, visit Digital Life Institute.