Sheldon Jordan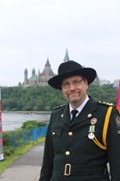 Speaker: Sheldon Jordan, Analysis Coordinator for Illicit Markets, INTERPOL.
Title: "Compliance and Enforcement in a Brave New (Green) World"
Bio: Sheldon Jordan is an Analysis Coordinator for INTERPOL's Illicit Goods Programme since 2022. Prior, he was Director General of Wildlife Enforcement with Environment and Climate Change Canada's Enforcement Branch for 12 years. He has over 30 years of law enforcement experience in multiple field and leadership roles, covering operations, policy and criminal intelligence. Sheldon is a Past Chair of INTERPOL's Wildlife Crime Working Group and is a current member of the UK Government's Illegal Wildlife Trade Advisory Board.